Hot news: ADEX launches a great feature to help you fight the most annoying thing ever – bots. Our Fraudulent Traffic Redirect tool will keep them away from your landing pages and ensure pure traffic only. Read on to learn more.
Fake traffic is the last thing an advertiser wants. When bots interact with your ads by clicking on them, your CTR gets falsified. As such, your ad campaigns become close to useless – you are paying real money for fake bot clicks. Your content is shown to bots, your cash flows down the drain, but the worst thing happens next – your ad may stop bringing legitimate traffic at all. So fraudulent traffic is not just useless and resource-consuming, but also risky for your online presence.
Each advertiser would like to avoid such a sad scenario. You need to block those malicious bots and stop the harmful flow that may fall on your landing pages. Sounds pretty obvious, but how to do that efficiently?
We are glad to present our latest feature that allows you to keep bots away from your pages. Meet Fraudulent Traffic Redirect, the brand new tool you can rely on.
Fraudulent Traffic Redirect is the advanced bot detector and the powerful instrument that keeps your landing pages safe from fake views. Once you launch your campaign through the Redirect instrument, the tool checks each visitor and distinguishes if any of them behaves suspiciously. Non-reliable users that look more like bots won't pass the filters and reach your landing pages anymore.
Here is how the entire process looks like. After you set all the requirements and launch the tool, it detects and sends all suspicious users to a blank landing page that works as a so-called "dummy" and saves you from unwanted bots. As such, you can rest assured that no fraudulent traffic will ever devastate your online presence.
---
How does the Fraudulent Traffic Redirect tool work?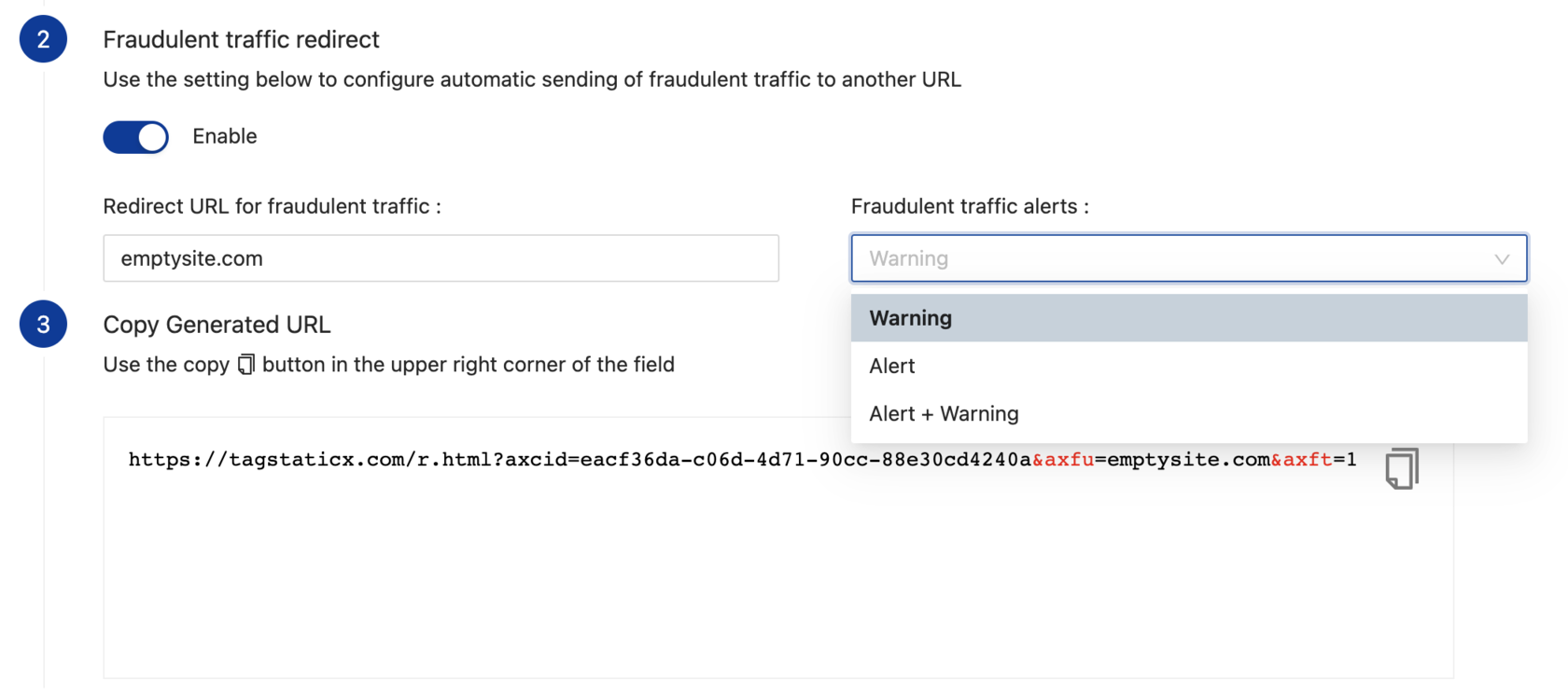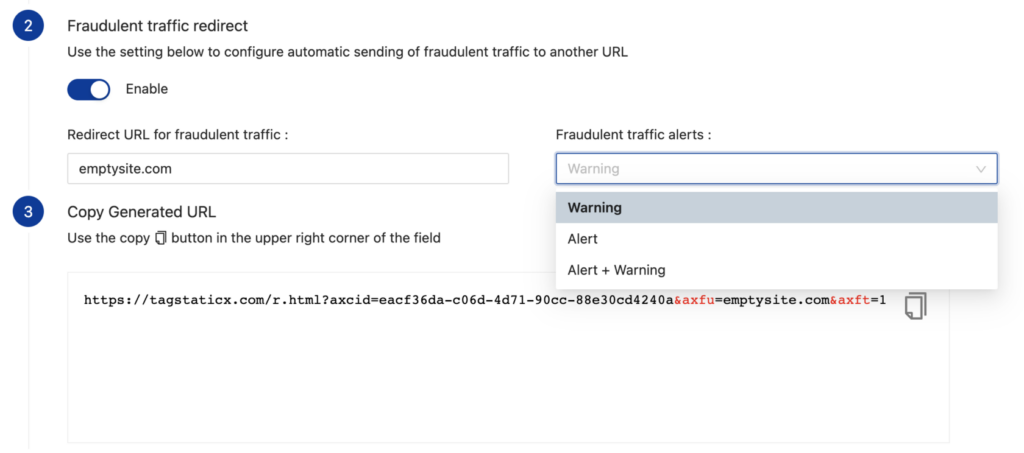 You are a few clicks away from making your traffic as pure as the spring water. To start using Fraudulent Traffic Redirect, just fill out a simple form in the settings and leave the rest to the tool.
This is how you do that:
Enter the Redirect URL section
See the second block called Fraudulent Traffic Redirect
Enable redirection to another URL
Type Redirect URL for fraudulent traffic
Pick fraudulent traffic types you would like to prevent: Warning, Alert, or both
The tool will generate an URL for you
Copy the generated URL and use it as a protective shield for your page
Our fresh tool keeps your sweet landings covered from any fraudulent traffic, so you can rest assured that your ad campaigns and wallet are safe.