Influencer marketing is one of the most efficient and widespread forms of online promotion. It's no wonder that advertisers seek collaborations with recognizable Internet celebrities to increase their brand awareness and boost sales.
Millions of social media users browse Facebook, TikTok, Instagram, and YouTube every day looking for entertainment, advice, and inspiration, so marketers eagerly turn their steps where their potential customers are.
According to Statista, the global influencer marketing market value has more than doubled since 2019, standing at around 13.8 billion U.S. dollars as of 2021. As the platforms expand, these numbers are going to increase in 2022.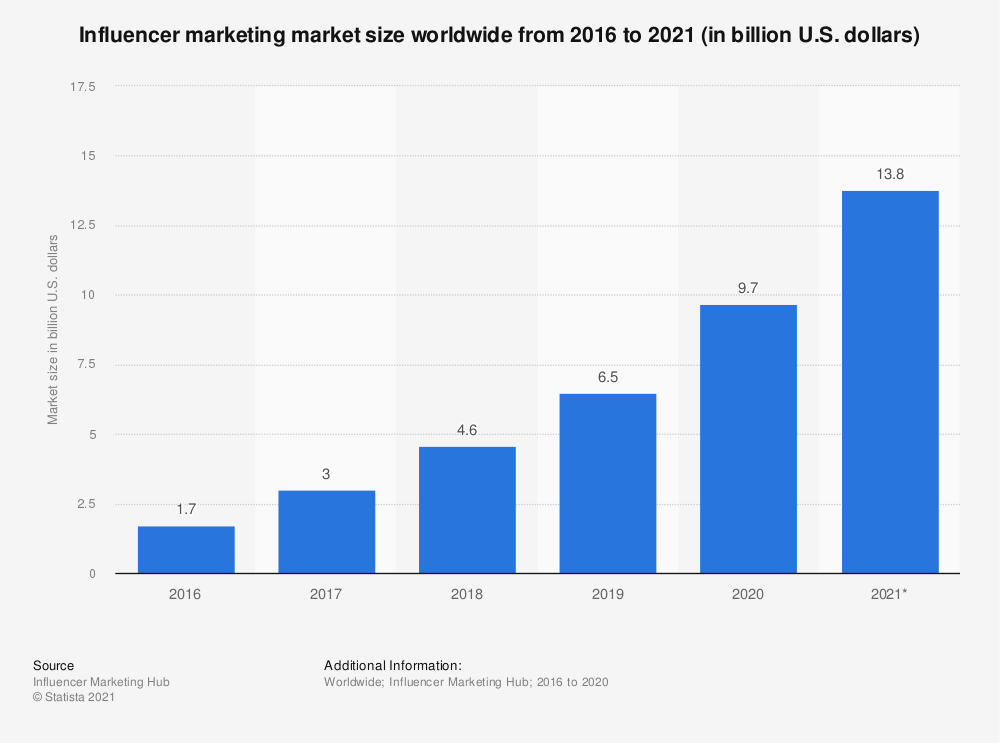 However, as one of the most profitable spheres of online marketing, influencer marketing is not free of risk. Which fraud schemes are common for influencer marketing? And the most crucial: what should you do to protect your campaigns? ADEX answers these hot questions.
---
Real money for fake users
Influencer marketing is an investment, and a significant one. The success of a commercial collaboration with an influencer depends on the level of engagement reached by a brand.
Unfortunately, thousands of likes and comments an influencer has don't always mean that your campaign will boost your sales. Why? Because of bots, of course.
In social media, bots are fake accounts controlled by automated algorithms. The problem is that influencers buy such bots to show themselves more popular than they are, even though they risk spoiling their reputation.
What is even worse, they also spoil the reputation of the brand paying for such promotion. For instance, when it turns out that your brand cooperated with a dishonest influencer with thousands of fake followers, potential customers will start associating you with this influencer. Someone's unethical behavior automatically becomes yours.
And the icing on the cake — logically, brands and advertisers pay but don't get anything from promotions shown to bots.
---
What are the trends of social media fraud and how does it work?
In general, social media fraud techniques are connected with fake accounts. Let's take a closer look at the common techniques:
Mass account creation
Fraudsters use software to create hundreds of fake accounts on various platforms automatically. These accounts are usually registered for specific unlawful purposes, like:
Not only do bots post advertising links with dubious services and products. Such links also involve inattentive users into phishing and other online scams.
Social media bots can also steal bonuses and loyalty programs gifts, which is especially common for iGaming.
Fake likes and comments
And, of course, the most obvious trend of influencer marketing fraud is fake reactions to ads. The most desperate influencers use special applications to get fake likes from irrelevant audiences or simply bot accounts.
So, bots watch the promotion, follow links, leave comments and likes. Whenever they reach your website via the promotional link, you get a huge amount of false visits and no actions at all.
Fake accounts can be disguised as real ones, but sometimes fraudsters steal accounts from registered users, which makes them look pretty natural from the first sight — their pages are filled with content, have real followers, comments, etc.
---
What are the signs that an influencer might have bots?
There are suspicious signs that might indicate fake followers. They are:
One-time follower sharp spike
Using special apps, you can check the dynamics of follower growth and pay attention to sudden bounces. Sometimes, there might be logical reasons for that — say, the influencer had an interview, workshop, debates, or a promotion that day. If not, then these new followers might be purchased.
Engagement imbalances
High engagement might be a sign of both — admiration of the audience and bought likes/comments. To find out which numbers an influencer has, again, you would better use third-party tools for account analysis. Asking for statistics screenshots is not the best option, because influencers can edit them and change the numbers.
As Social Media College claims, the average branded engagement rate on Instagram is around 1.22%, which varies regarding the industry and concrete case. The rate for Facebook Pages is about 0.08% and for Twitter — 0.045%.
Also, the imbalance between user activity and their amount might be also a sign of bots. Namely, this could be true when an influencer has an extensive list of followers, but they don't show interest and never leave likes and comments.
Follow-unfollow tactic
It makes sense to check the followers-to-following ratio, as well. If an influencer has the same amount of followers and people followed, he/she might be using a follow-unfollow tactic. This tactic has nothing to do with bought accounts, but it also puts real engagement to zero.
Some influencers follow random people who don't really care about the content. Users follow in return and then an influencer unfollows them. This way, an influencer gets a longer list of subscribers, but it doesn't improve the engagement rate.
However, instead of scratching your head over influencers' pages, you should consider a much better option — ADEX tools.
---
ADEX delivers an alternative anti-bot solution
As you can see, identifying whether influencers have fake accounts is a wild guess. There are signs you can take into account, but they are not certain and you cannot rely on them entirely. Intuition is helpful, but you'd better have a firm solution, like ADEX.
So, how can ADEX help you avoid spending money on low-quality social media traffic? Let's discuss.
Fraudulent Traffic Redirect
When you cooperate with influencers, be it a YouTube video blogger or an Instagram star, you provide them with a link that leads to your landing page. It is supposed that users will follow that link after hearing about your product or service from their idol.
Instagram influencers usually locate such links in their stories, while TikTok and YouTube celebrities leave the links in a video description.
ADEX can be integrated through that link and bots won't be able to reach the final destination — your website. Or else, you can set the ADEX code up right to the landing page and protect your budget from harm. Fraudulent Traffic Redirect is a perfect feature for such a case — when you use it, bots are identified by the system and redirected to a blank page instead of your site.
ADEX believes that identifying fraudulent activity in real time is the best way to deal with the issue. Postbacks feature can help you stay aware of your traffic quality, whatever source you use, including social media platforms.
With Postbacks you will receive immediate alerts whenever any suspicious activity takes place. Not only you stay aware of the traffic events in real time, but also you can block them right away to avoid spending money on useless bots.
And if for some reason you didn't manage to identify bots before they sneaked into your campaign, you can still rely on ADEX, namely — our Claim Reports. These are customized reports that include precise campaign statistics and concrete reference to fraud traffic.
Claim Reports will come in handy when you have already paid an influencer and then realized that he brought bots instead of real users to your landing page.
---
Summing up
So, influencer marketing might be not only beneficial but also risky. Trying to identify the level of traffic source reliability by sight cannot be called the best option, so we recommend taking additional measures to keep your budget safe.
ADEX can help you deal with any type of potential threat, no matter which marketing plans and ambitions you have. Rely on our tools and don't worry about your traffic quality anymore — we've got you covered!